Importance of Apparel Production Tech Pack in Garment Industry
Building apparel production tech pack is to bring clarity between client and manufacturer. An apparel production tech pack simplifies the task by segregating tasks into parts. The manufacturer can process each component of tech pack for sample development and apparel production process. For example embroidery and printing, details are further processed with print and embroidery units. You need measurement spec sheet to prepare pattern and grading of your style etc. So, apparel production tech pack is the whole package for a style to execute complete sample development and production.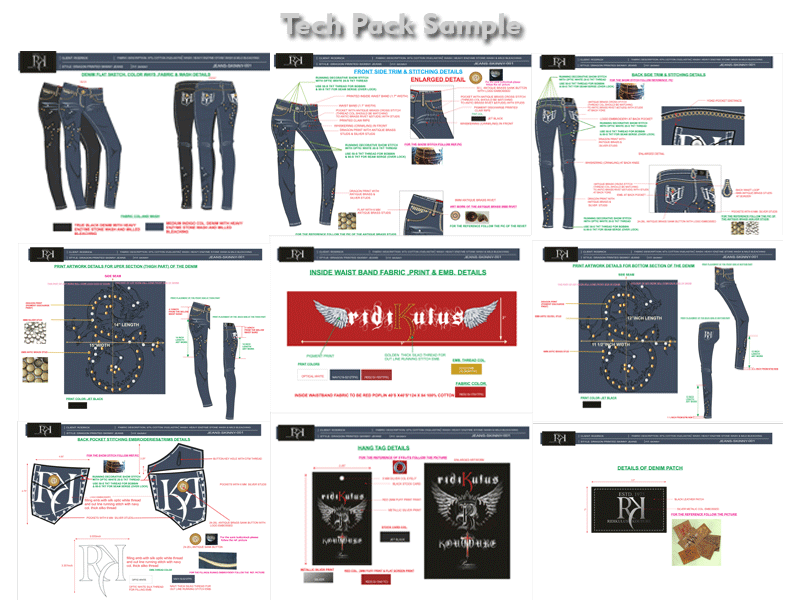 I came across a query from a client who wanted to produce garments for physically disabling customers. She just explained the styles in a simple mail and wanted me to give a cost for them. I was wondering how can somebody give a cost of a garment without even knowing the style? You can not expect the cost of production without haveing a proper apparel production tech pack. Some or other small things miss out and you end up having confusion on the costing. Clients should keep track of each and every cost and prepare bills of material for every style before going ahead for production. This is only possible if you have a tech pack in hand.
Small Run Production Solution for Startup Apparel Brands
If you are a start-up apparel brand the best thing that you can do is take the help of a tech pack designer. Once you get the tech packs you can speak to clothing manufacturer for costing. Whether you are an established brand or starting fresh, use tech pack to get the production cost. Especially in the apparel industry, numbers are important. Every manufacturer focuses on producing goods in mass. So for the clothing manufacturer, production quantity matters the most. And when they produce in mass, the cost of each component becomes important. This put start-up to an awkward position as they can't afford to produce in large quantity. But still, if you are serious and want to grow your apparel brand my suggestion would be to stick to the process.
Start Your Clothing Brand Today
Lets Help You