Techniques of Embroidery Design in Apparel Tech Packs
Weather it is Indian Ethnic Cloths or modern designs, European styles or modern US silhouettes embroidery design is an integral part of embellishment and adds value to apparel and makes it premium. Most of the premium apparel brands extensively use embroidery design in their clothing line sheet. Clothing designers from India and south-east Asia have used this technique since a long time. The common embroidery techniques that most clothing designers use are filling embroidery, puff embroidery, chanel embroidery, chain embroidery, applique . Embroidery is an art of thread which decorates the fabric. Embroideries can be done with beads, pearls and zari work to make fabrics more beautiful and attractive.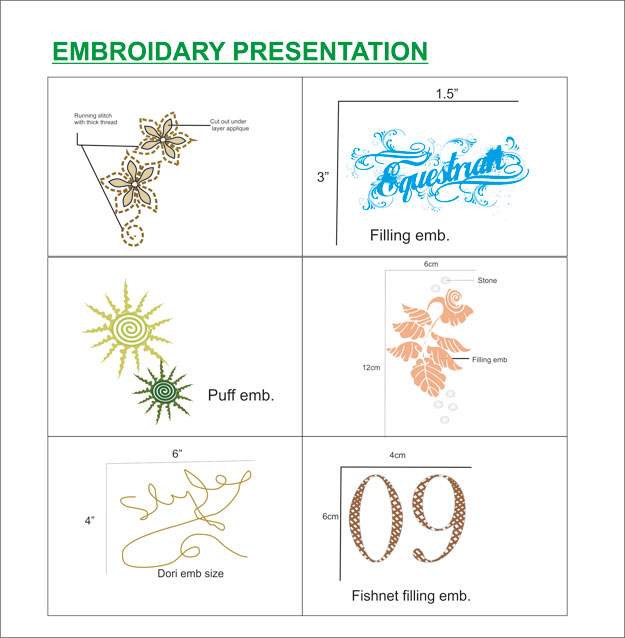 Embroidery is counted on stitch stitches and the charges are based on per stitch. A normal logo would have not less than 1200 to 1500 Stitch and the bitter the embroidery surface area stitch count goes up. This affects the costing of the product and ultimately pricing of the garment. Therefore, most high-fashion garments you would find a lot more price and you will get a lots of embroidery done on that. Machine Embroidery designs are developed using various cad software and the last DST files are then inserted in to embroidery machines to make the embroidery. There are separate embroidery designers available. Clothing Designers need to give clear artwork to embroidery designers in vector format and the last output depends on the vector clarity. While doing the embroidery you should give the embroidery developer proper CAD which can be resided at any gradation.
Specialist Clothing Designers from Fashion Studio Urban Purple give CAD on CorelDraw format for a better clarity and good output. The Embroidery Design Comes as a Part of Tech Pack Design. We also can produce your garment and support you in Marketing through our Partner Company ScriptoGraphics with eCommerce Web Development and Search Engine Optimization.
Start Your Clothing Brand Today
Lets Help You