Measurement Specification Guideline – How to Measure A Garment
Measurement specification sheet is an elaborate detailing of the measurements of different components in a particular style. For a clothing manufacturer, only base measurement sometimes is not enough for preparing the apparel pattern. For that, you need to provide the measurement of each and every part of the garment. Common garments that we use are button down shirts. So let's first discuss what are the key points of measurement required in order to get a perfect pattern and get a perfect sample. To get a perfect pattern for a button down Shirt the following measurements are essential. Those who are new to the fashion line my suggestion is to know little bit more about tech pack design. You can refer to articles from clothing tech pack design to get a basic knowledge on technical design.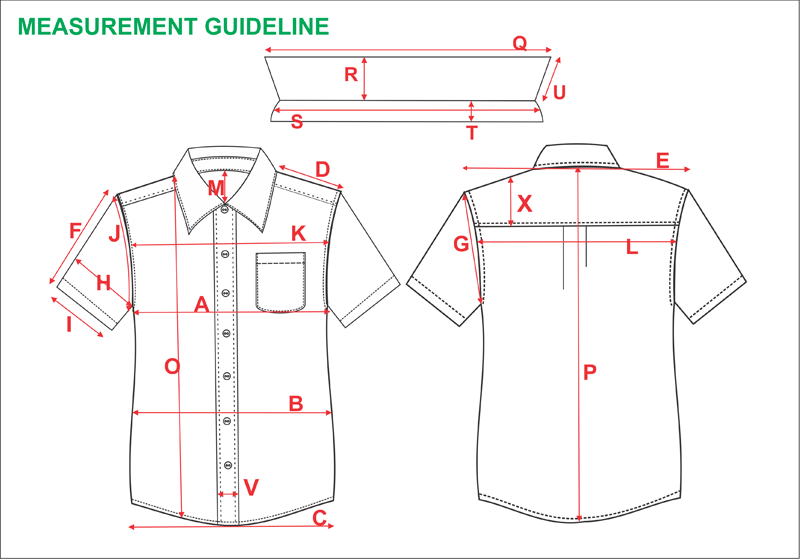 How to Measure – Shirts & Blouses Garment Measurement Specification Guideline
1 Chest – 1″ below armhole measure straight across, edge to edge.
2 Waist – At point specified below HPS (High Point Shoulder) or SNP (Side Neck Point). Measurement is taken straight across, edge to edge.
3 Bottom Hem – Measured straight or curved along the bottom edge, side seam to side seam (whichever is specified on the measurement chart).
4 Shoulder Seam – From HPS/SNP measure along the seam or along the natural fold line to the outer shoulder edge.
5 Across Shoulder – Outer shoulder edge to outer shoulder edge
6 Sleeve Overarm – From outer shoulder edge measure along the fold to the edge of cuff.
7 Armhole Straight – Measure straight from outer shoulder edge to bottom of the armhole. Armhole Curved – Measure from outer shoulder edge along the curve to bottom of the armhole.
8 Bicep – 1″ below armhole, measure straight across edge to edge parallel to the sleeve opening.
9 Cuff/Sleeve Opening – Measure along cuff/sleeve opening, edge to edge.
10 Cuff Depth / Cuff Height – Measure from the seam to edge of cuff.
11 Across Front – From specified point below HPS/SNP, measure straight across, edge to edge of armhole.
12 Across Back – From specified point below HPS/SNP, measure straight across, edge to edge of armhole.
13 Front Neck Drop – From back neck seam to top edge of the front neck.
14 Back Neck Drop – From imaginary line to the top edge of back neck seam.
15 Front Length – Measurement is taken from HPS / SNP straight down to the hem, staying parallel to the center front.
16 Centre Back Length – From the center back neck, measure straight down to the hem.
Urban Purple – Clothing Designer and Garment Manufacturer
You should always take the help of a tech pack designer for garment measurement specification sheet. Because for one small mistake, you may completely risk your apparel production. If you are a new apparel brand and have no experience in apparel design and patterns you should always take assistance. You may get in touch with us for your apparel design and tech pack design queries through our contact form. Hope this post is of some support to you. Please stay connected for more interesting posts on apparel tech pack design and clothing manufacturing.
Garment measurement sheet is not an excel sheet used for reports or check statistics. This has a lot of significance. A garment measurement chart is the most important document to producing your collection. Any deviation on the numbers in the spec sheet may cause a loss of hundreds of dollars. So relay on best pattern designers during development of garment specification sheet. Students and technical designers must spend time researching on how to make a spec sheet. Because this is the most important operation specification in apparel industry. So, copying spec sheet from search engine or any of the website will always harm your business. So if you are serious in your business hire professionals and stop taking short-cut.
Visit Tech Pack Template Store and download Unlimited Garment style with complete technical specification and Measurement spec sheet. You can also check our Print and Graphics section for t-shirt vectors and fabric prints.
You may also like to see
Start Your Clothing Brand Today
Lets Help You