Points of Measurement in a Detailed Measurement Spec Sheet
Garment Spec sheet is the most important part of a tech pack based on this you get a lot of information. You can get the fabric consumption, garment fit, prints etc from the garment spec sheet. So to prepare a spec sheet technical designer has to give the points to measure in a proper format. Also, should mention what measurements to mention for a particular style. You need few mandatory measurement to derive detailed spec sheet. We call them base measurement and that forms a base to make a complete spec sheet. There are certain formulas that give us other measurements if you know base measurement. The 3 base measurement required are Length from HPS, shoulder, waist. If we know this three measurements we can derive a detailed measurement spec sheet for any style.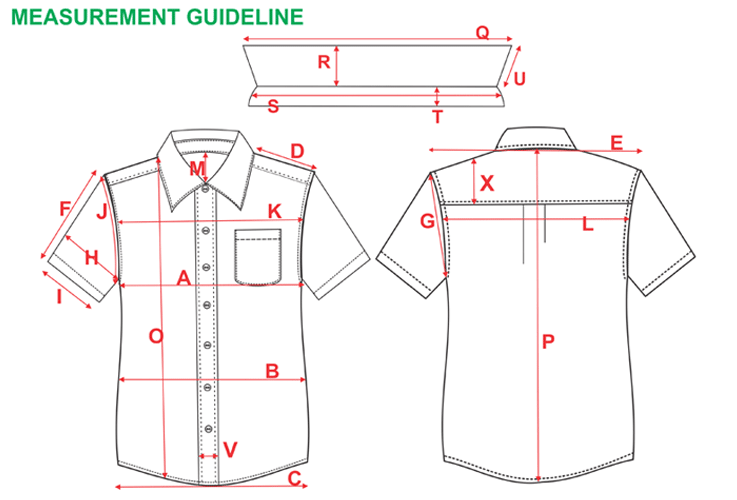 With measurement spec sheet you should have a guideline which shows the point of measurements. In the above image, I have mentioned points where to measure for a particular part of a garment as an example. You can take the measurement in two ways "on the half", or total. For example, if you want to take chest measurement you can take a full round of the body or you can take just the front. This depends on what you are taking the measurement. If you are testing a pattern then it's obvious that you will only consider half measurement. And if you are taking a measurement in a mannequin or dress form you have to take the full measurement. You need formal training to prepare a detailed measurement spec sheet. We usually ask our clients to provide base measurement to prepare detailed spec sheet.
Global Consulting firm for Apparel Design and Clothing Manufacturing
Your success in business depends on your ability to communicate your ideas and sketches into factory understandable apparel tech packs. Putting your tech pack together clearly in business is not a luxury. It is a necessity. You need to learn how to communicate through tech packs so that it is impossible for clothing manufacturers to misunderstand. Out technical clothing designers in Urban Purple prepare for you a clear and concise tech pack with detailed measurement spec sheet that you can share with the clothing manufacturer to achieve best garment sample. Clothing designers here prepare tech packs from your idea in a concise, accurate, and effective way. Our expertise relies on continuous interaction with clothing manufacturers and other supporting units, practical exercises, and intensive feedback from our previous clients.
For additional information about Tech Pack and spec sheet, you can also refer to our post Difference Between Specification Sheet and Tech Pack .If you still have queries write comment us in the below comment box and we will try to answer them at the earliest convenience. For any business inquiries kindly use our contact form to write back to us . Our Clothing designers will get in touch with a suitable proposal that fits your apparel brand requirement. For Pricing inquiries and quote please refer to our tech pack designer and clothing manufacturing page.
Start Your Clothing Brand Today
Lets Help You