Specification Sheet and Tech Pack – The Difference
Many Clothing designers and new apparel Brands confuse between Spec-Sheet and tech pack. Most believe both Garment Specification Sheet and Tech Pack are same. However, both are quite different and in fact, the spec sheet is just a part of complete fashion tech pack. So what is the difference between Specification Sheet and Tech Pack in Apparel Design & Production? Let's check both in detail. You can get some more details on our Clothing Designer and Garment Manufacturing FAQs post as well.
Specification Sheet is the measurement details of a particular style that a clothing manufacturer needs to prepare pattern. Some specification sheet also gives the Measurement Gradation between sizes and give the detailed size gradation for the garments. However, it does not say other details that go into apparel style detailing. Below is an example of a garment specification sheet. As you can see on the image the measurement spec sheet only reveals on measurement parameters. This only helps to create the garment patterns and sample development.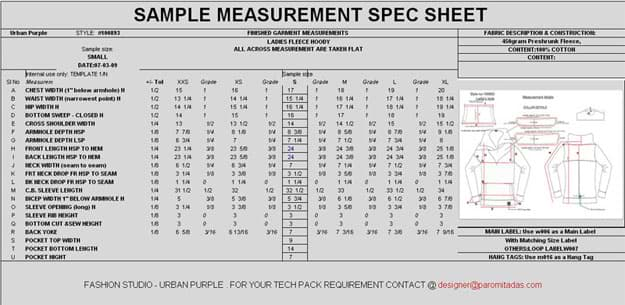 What is A Tech Pack?
So you must be wondering if we can use the measurement spec sheet to prepare the sample then why we need a tech pack? and what is a tech pack all together? Here most of the apparel brands and clothing designers make the mistake by understanding measurement spec sheet is all the same as tech pack. Tech pack is a detailed instruction to create apparel starting from scratch. You must specify fabric details, washing and wash care, prints, etc other than the spec sheet. So it's not just a spec sheet will do your job if you want to produce clothing. Make sure you give every small and important detail to clothing manufacturer in terms of a tech pack to make sure your production piece comes right.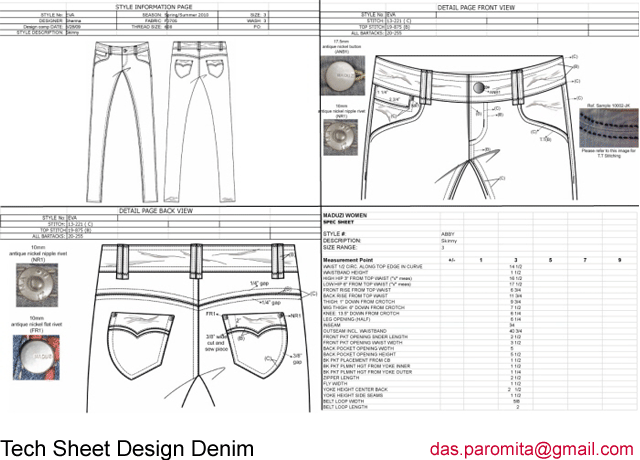 As you can see on the above image tech pack, it shows all detailing that goes in a style. It also reveals the critical path method of what steps to follow what steps. if a clothing manufacturer follows this completely there is absolutely no chance that the production pics will have issues.
Our Services As Fashion Studio and Apparel Production Unit
We offer complete apparel design, tech pack design and clothing manufacturing service to start-up fashion brands starting. Please free to contact our tech pack designer and merchants to get a quote. You will get a discounted quote and a huge support in production and shipping if you are starting your clothing brand. In case you need tech packs and spec sheet for usual styles, please visit our online store and download apparel tech pack template store and pick your style. You will get the complete tech pack and spec sheet for the style you purchase and download.
Start Your Clothing Brand Today
Lets Help You